Press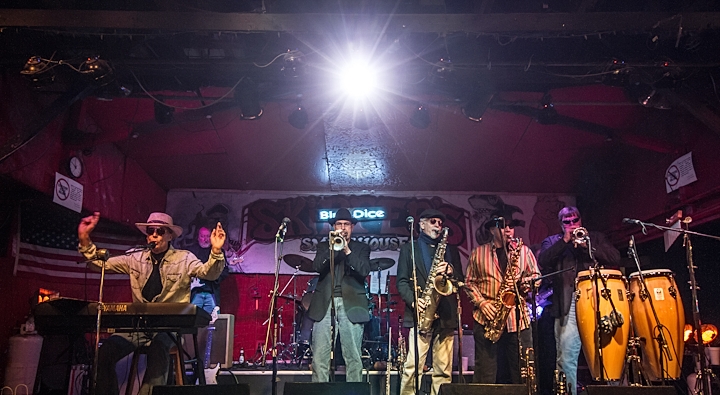 PRESS
"The party starts now!  Anyone within earshot of the eight-piece Blue Dice Band knows them to be the quintessential soul/blues revue in these parts, with an ass-kickin' horn section burning of Tower of Power like funk that never gives up. While the opening volley of "Right Off My Face" and "Let it Shine" sounds like killer Paul Butterfield Blues Band era romps, the band coast along with some Boz Skaggs-influenced soul vamping, eventually settling into a few smooth, laidback yarns that are primo Tupelo Honey-styled Van Morrison.  "
– Focus Magazine, Focus Magazine
"Great Sound… Now that's R&B,  the proper R&B not the new age R&B that has claimed it.  I've added "Right Off My Face" and "Little Dirties" on whotune radio… Thanks for sharing guys."
– Chris, Who Tune Radio
"With a four-piece horn section, you might at first mistake Tampa's Blue Dice Band for a retro-swing bandwagon masters.  But no, this crew harks back the grittys '50's (Chicago Blues) and '60's (Memphis R&B). "
– Curtis Ross, St. Pete Times
"Blue Dice Band is a classic funk and soul throwback outfit composed of a talented group of musicians with a diverse array of styles, as the brass section of the eight-man band blast golden flurries of tight soul harmonies."
– Gina Vivinetto, Tampa Tribune
"Tampa's Blue Dice Band fires up its Blues and R&B mix with the brassy blare of its four-piece horn section, while keyboardist David Bley tops off the tunes with appropiately soulful vocals."
– Curtis Ross, St. Pete Times
What the Indie Music Industry are saying about Blue Dice Band in rotation on Butterflies Radio.
"Seriously… Amazing!"- Alternative Press and AP Tour CEO & Founder, Mike Shea
"It's all about Blue Dice Band and their tasteful brand of music."- Kevin Lyman, Van's Warped Tour Founder
"Well done, Blue Dice Band!"- Steve "Stevo" Robertson, Atlantic Records VP of A&R
Pages
Bluedice jukebox
Here is the Music Player. You need to installl flash player to show this cool thing!